Rules
Sites | Rates | Activities | Amenities | Rules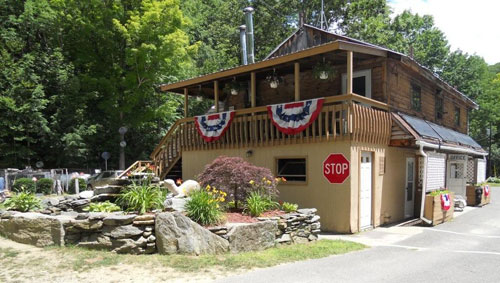 This campground is privately owned and management reserves the right to refuse service or admittance, and expel anyone who does not obey the rules. This campground will not be responsible for accidents, injury of campers, guests, or loss of valuables.
SPEED LIMIT THROUGHOUT THE CAMPGROUND IS 5 MILES PER HOUR
REGISTRATION: Everyone must register at office.
CHECK IN-OUT: Check in time is 2:00 pm. Check out time is 1:30 pm. Early arrivals and late departures are available for an additional fee.
CARS: one car per site. Registration stickers must be displayed on the rear view mirror. No washing of vehicles.
VISITORS: Are required to come directly to the office and pay an entrance fee. If the visit is less than 20 minutes, the fee will be refunded. All day visitors must leave before 9.00 pm. Overnight visitors must leave before 1:30 pm the next day. Visitors must park where designated.
QUIET TIME: Is from 10:00 pm to 8:00 am. All children must be at a site by 9:00 pm.
FIRES MUST BE DOWN BY 11:00 PM AND EXTINGUISHED AT MIDNIGHT, or when leaving the site. No bonfires. No burning of trash. Please do not move or enlarge fireplaces.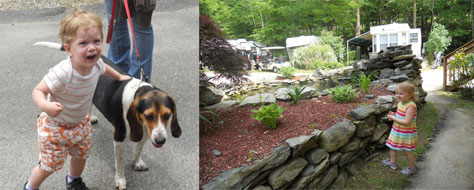 DOGS: Must be kept quiet and on a leash. Dogs may be walked throughout the park as long as they are cleaned up after. Bags are available for clean up. Dogs are not allowed in the building or pool area and must not be left unattended.
SWIMMING POOL: NO LIFEGUARD ON DUTY. Swim at your own risk. Hours are 10:00 am to 9:00 pm (unless otherwise posted). Massachusetts law requires anyone under the age of 16 to be accompanied by an adult in the pool area. Floats and tubes are not allowed in the pool unless they are used as a safety device (armies, vests etc. ) Noodles are allowed in the pool.
SITES: Must be kept neat and clean at all times. Trenching is not allowed. Soaping, washing, throwing waste, glass or sharp objects in the brook is not allowed. Please do not deface trees or buildings. Cutting of trees is not allowed. Please report any hazardous or unsanitary conditions to the office immediately.
ALCOHOLIC BEVERAGES: are not allowed to be displayed in the campground. Please use cups or foam holders. Drunkenness, underage drinking, profanity or other offensive behavior will not be tolerated or permitted.
BICYCLES: Massachusetts law requires anyone under 16 to wear a helmet. Bikes are not to be ridden on bridges or hills. Must be controlled at all times. Riders will obey 5 mph speed limit and are not to be ridden after dusk.
RUBBISH: Must be placed in the rubbish cans before 7:00 pm. After that time, keep in your car or camper. Trash can be placed in the dumpster at any time.
CHILDREN: Parents are responsible for the safety and behavior of their children in the water and in all facilities. Playground opens at 8:00 am and closes at dusk.
SMOKING IS NOT ALLOWED IN THE BUILDING OR RESTROOMS
EMERGENCY NUMBER 911: we are located at 27 Route 20 Chester MA 01011
These rules are made for your benefit, if each camper keeps them we can maintain the clean and pleasant surroundings we all like to camp in. Thank you.